Horseback Riding Tours
Horseback riding tours are one of most unique ways to take in the quieter side of Aruba. You do not need to be an experienced rider either, as long as you can keep your balance in a saddle. All of Aruba ranches have well trained horses and friendly knowledgeable tour guides, and many allow children 6 years and older ride their own horse, while children under 6 can ride with a parent. 
Destinations, duration and sights you will see all depend on the ranch and tour you choose. How about a nature tour during a trip through the Arikok National Park, a swim in the Natural Pool, or a peaceful trot on the coast? Prepare to be amazed. 
Bring a camera, sun screen and insect repellent. Dress accordingly; wear closed toe shoes (Sneakers, shoes, boots), not sandals or flip flops. It is recommended that you wear long pants or jeans, rather than shorts. Bring sunglasses. If you wear a hat, be sure that it will not fly off in gusty wind.
A few things to consider regarding your health and fitness you should keep in mind: 
Obviously, you should not be allergic to horses, hay or dust. You will not enjoy yourself. 
You should not ride a horse if you are pregnant.
A horseback riding tour might not be for you if you have pre-existing neck, back, knee or shoulder injuries that could cause you pain or be worsened by riding. 
Do not select a "strenuous" tour if you have heart or respiratory conditions or other medical issues. If you have any health or medical concerns, PLEASE contact your doctor before signing up for a horseback riding tour. 
The tours listed below include transportation to and from your hotel to the ranch. But, it is always a good idea to confirm this 24 to 48 hours before your excursion using the contact number on your ticket or voucher.
*All prices are per person and listed in $ USD. I do try to keep the information current, but prices and other details may vary.
Horseback Riding Tours for Newbies
So, you want to learn to ride a horse AND see the beautiful island? These are the ones recommended for beginners or intermediate riders. 

$75.00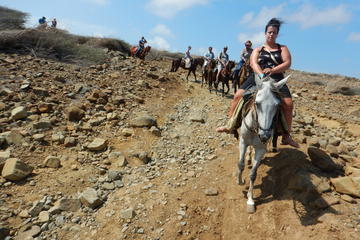 On this expedition, you will be picked up at your hotel about 1 hour before your tour and driven to Rancho Loco. You will be given instructions on how to handle a horse, before the knowledgeable and experienced guides pair you with a well-trained horse and make sure you are comfortable in the saddle before starting out on a one-hour tour into Arikok National Park and up hills for spectacular views of the island.

$105.00
You will be picked up in front of your hotel around 8 am and brought to Rancho Loco. Our professional and friendly guides instruct you how to handle a horse and then pair you with one of the well-trained horses for a 2.5-hour expedition through the countryside. You will see the hidden wonder of Blackstone Beach and little natural bridges. You will have 30 minutes or so to cool off at Andicuri Beach or take in the ruins of the collapsed natural bridge before returning to the ranch.

Horseback Riding Tours For Advanced Riders
Rancho Notorious Aruba offers two great tours for advanced riders.

2 Hours - $84.00
On the 2-hour excursion, you will enjoy scenic views of the rocky coast, the wish garden, and a remote beach. There could be opportunities to canter and gallop (at the guide's discretion).
This is also available as a PRIVATE tour. - $145.00
3 Hours - $130.00
The 3-hour guided horseback riding tour takes you through the quiet countryside where donkeys, iguanas, parakeets roam free, on to the rough north east coast and sandy dunes. You will make a stop at Wariruri Natural Bridge (one of several natural on Aruba). Galloping is allowed for the experienced riders (tour guides discretion).
Private Horseback Tour to the Natural Pool
$130.00
Rancho Loco offers one of the best horseback Tour packages in my opinion. This tour is open to both beginners and advanced riders. 
Upon arrival at the ranch, a friendly local guide will show you how to handle a horse and pair your up with a well-trained horse. When everyone feels comfortable in the saddle, you will head into the beautiful Arikok National Park. You will see the island from the top of one of the highest viewpoints, take in the white sandy dunes and shoreline, and enjoy a 30 minute stop at the natural pool where you can take a quick dip, or just relax. The Natural Pool, is a hidden treasure of Aruba which isn't easily accessible for many visitors. The entrance fee to the park is included in this tour.
Top of Horseback Riding Tours Page