Aruba Sightseeing & Points of Interest
While you are on vacation, be sure to do some Aruba sightseeing. Aruba has some unique points of interest to take in, if you can pull yourself away from the gorgeous beaches.

Sightseeing can be done on your own, or with a group tour.
Places that you must see:
The California Lighthouse
Alto Vista Chapel
The Natural Bridge (Both the original collapsed bridge and the "Baby Bridge")
Bushirbana Gold Smelter Ruins
The Arikok National Park
The Ostrich Farm
The Butterfly Farm
Donkey Sanctuary
Tip: If you book a tour that includes hotel pick-up, it is a good idea to confirm your tour and any included hotel pick-up times with the Activities Desk or Guest Services Desk in your hotel. 

Sightseeing Tours
There are so many points of interest to see in Aruba, and we had a limited time. In our future visits, we will have to go on other Aruba sightseeing excursions. The horseback tour sounds exciting….Check out our favorite top 3 Tours.
There are many ways to enjoy Aruba Sightseeing. Horseback riding tours, walking tours, Segway Tours, even private tour guides. Some of our suggestions are listed below.
A Personalized Small Group Hiking Tour
Get the personalized experience of a small group tour and learn about Aruba's geography and history on a hiking tour adapted to your group's fitness level. It is extra if you wish to hike in Arikok National Park, but there are several hiking trails and so much to explore there...caves, Indian drawings, the historical gold mine...
Discover Aruba Bus Tour by De Palm Tours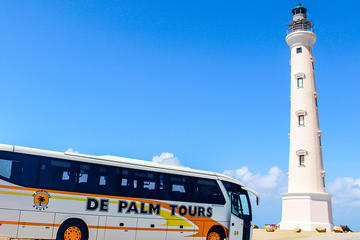 This air-conditioned bus tour makes stops at the California Lighthouse, Alto Vista Chapel, Bushiribana Gold Mill Ruins, Natural Bridge, Casibari Rock Formation, lunch at De Palm Island (buffet) and a final snorkel stop at famous Baby Beach.
This bus tour package includes a tour of the Aruba Aloe Vera Factory, and makes stops by the Casibari Rock Formation, the gold smelter ruins, the Natural Bridge, the Alto Vista Chapel and the California Lighthouse before heading to Arashi Beach to take a dip in the ocean. Going through Oranjestad on the way back, you will have an opportunity to do a little shopping before returning to your hotel.
This 6 and a half hour tour includes almost everything you would want to see on your vacation to Aruba. You will stop for lunch mid-day at La Granja restaurant. It makes stops at the California Lighthouse, Alto Vista Chapel Bushiribana gold mine, the remains of the Natural Bridge and the Amerindian petroglyphs in the Guadirikiri caves, and Ayo rock formations in Arikok National Park with a final stop to swim in the calm waters at Baby Beach.
Aruba Sightseeing - Exploring On Your Own
If you wish to do your Aruba sightseeing on your own, you will need a vehicle, preferably a Jeep. Many of the sights are on the map, but, keep in mind that most of the streets and roads have no signs. On the north side of the island in particular, some of the roads are little more than gravel paths created by regular use.
Scott had reserved a Jeep in advance, since we knew that we wanted to go and explore the island on our own. But, Jeeps and 4WD vehicles get rented very quickly. So plan ahead.
One of the Boardwalk hotel employees gave us a map and marked off places that he thought we might enjoy, including a few local pubs that most tourists never see. We started at the northern tip, stopping at the California Lighthouse for some really spectacular views and photos. (we started out early morning so we didn't get the full effect of the sunset at the lighthouse but, the view was incredible).
We continued up and around the northern coast, past the Alto Vista Chapel, following the ruts in the rocky sand. We stopped at the Gold Smelter Ruins (not to be confused with the abandoned Gold Mines), past the Ostrich Farm and the Baby Natural Bridge. We had attempted to see the Natural Pool, but, we could not find it, and got very lost in the process. We were told later, that the only way to reach the pool is via All Terrain Vehicle or on horseback.
There are some very good guided tours that expertly take a group up through the unmarked rocky desert hills that lead to the pool. But, if you don't know the way, apparently, you will not find it.
We left the North-Eastern coastal road, and past the Donkey Sanctuary and Ayo Rock. Goats run free in Aruba. We were a little surprised to find a group of 10 or so crossing the road in front of us. (Below - picture of the goats from our Jeep.)
We did get ourselves lost on our Aruba sightseeing adventure. We got disoriented trying to find our way back to either Oranjestad or San Nicolas. When we were sure that we were completely and utterly lost, we stopped at a local pub to see if they could direct us to the main road into town…. Not open, until the sun went down.
As we were standing in the parking lot, looking at the map, with what I am sure was a combination of concern, concentration, and bewilderment, wishing the map came with a "You Are Here" dot, a very friendly local woman noticed our distress as she drove past. She stopped, and although she did not speak any English, and we did not speak any Dutch, and my Spanish is VERY LIMITED, we communicated that we were lost with gestures to the map and the road. She waved her arms and we knew that she wanted us to follow her.
We jumped back into our Jeep and followed her down winding unmarked gravel roads, until she honked her horn as we passed a sign indicating the way back to Highway 7. We honked and waved back as we veered off in the direction of the sign.
Our guardian angel? Maybe, but, it seemed everyone we met in Aruba is just as welcoming, friendly and eager to help. We ended our day of sightseeing with a extraordinarily romantic dinner at The Flying Fishbone. We sat at a table where we could dangle our feet in the refreshing Caribbean waters and watch the sunset.