Three of the Best Aruba Tours Around the Island

Here are some of the best, most talked about, Aruba tours. One of my personal favorites is the Aruba Pub Crawl Party Bus Tour and Dinner on the Kukoo Kunuku Bus with most of our wedding party. What a fun night!

Later in the week, we enjoyed a day trip, just the two of us, to De Palm Island for some honeymoonin' and some great snorkeling. I love the bright blue of parrot fish. While we were on the private island, we went for a walk on 20 feet underwater on the Sea Trek Tour. Read more about our relaxing and fun day together here.

The Most Popular Aruba Tours

4x4 Tour and Natural Pool Snorkeling in Aruba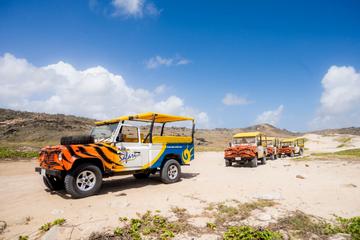 4x4 Tour and Natural Pool Snorkeling in Aruba Including Lunch
In this half-day tour, you drive a 4x4 vehicle with a tour guide, to another of the island's natural highlights, the Natural Pool in Arikok National Park. On Aruba's east coast, the Natural Pool is surrounded by volcanic rock and provides a fun and interesting place to swim and snorkel with the rest of your group. Your caravan also makes stops at island attractions like the Gold Mill Ruins and Natural Bridge. Cold drinks and hotel transport included.
Aruba ATV Tour
Want to sight-see the island by ATV? There are a few options
You ride an ATV (either single or double) along the north coast of Aruba. An all-terrain vehicle is perfect for the rugged back roads, the desert, seaside bluffs and beaches. Capture amazing photos while visiting Alto Vista Chapel, Baby Natural Bridge, a rock wish garden, gold mill ruins and eerie rock formations near Ayo village. Then take a refreshing dip in a natural pool of ocean water. Pickup and drop-off from most Aruba hotels are included.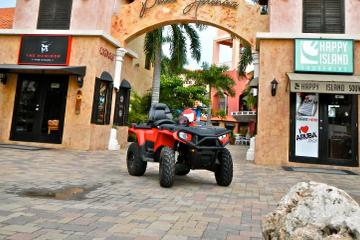 Beach Bus Sightseeing Tour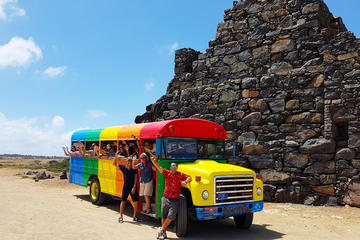 This is one of the best sightseeing Aruba tours. You travel around the island in a colorful, open-air bus with a knowledgeable local guide who will share important information about Aruba's History, explaining about the Island's discovery and culture. You will visit the capital of the island, the harbor, the highest mountain on the island, and the white sandy beaches on the quiet southwest side of the island.  You will learn about old Aruban houses and historical buildings. Other sights include Casibari rock formation, the Natural Bridge, Bushiribana goldmine, Whales Mouth, natural pool/cave, the oldest chapel, and the California lighthouse. Bring a swim suite because the bus does make a stop at Baby Beach and you will probably want to take a dip. 
(Please note that the bus will only pass by some attractions but stop at others so you can get a closer look, stretch your legs and take photos.) The tour includes hotel pick-up and drop off.
For a list of ALL Aruba tours and sightseeing attractions click here.

How to Book Your Aruba Tours
If you chose to purchase one of these recommended activities or tours using my affiliate links throughout the site, Aruba-Sunsets receives a small commission that help keep the site operational, but it does not affect the cost to you.
These links connect you to its page on Viator. Viator is the one of the worlds leading companies in finding the best things to do everywhere. There, you will find a little more about the tour and a secure booking page. By pre-booking your tour, you guarantee your spot and the best deals.
As always, I recommend only the best, and the most popular Aruba tours as rated by myself, my friends, and my readers. So please come back and let us know what you thought of your Aruba tours.